TogoPower Advance350, 346wh/330w Portable Power Station Backup Lithium Battery
Save

$80.00
Save

$80.00
Original price
$399.99
-
Original price
$399.99


Togo Power Advance 350, 346wh/330w Portable Power Station, Backup Lithium Battery, 120V/330W For Outdoor Emergency Supply Battery Camping
【
7 Safety Protections

】
【BMS Security Protection】
Togo power attaches great importance to product safety, this advance 350 adopts V0 grade ABS fireproof shell, wear-resistant and drop-resistant, anti-electric shock protection door and rubber dust cover reject hidden dangers.Built-in BMS system enables short circuit protection, voltage control, temperature control, and advanced safety features,improve battery life and prevent safety accidents.
【346Wh Capacity& Long-Lasting】
With 330W(93514mAh)wattage and 346Wh capacity, this Advance 350 portable power station can power to work CPAP(12V) for 3-4 nights,enough power your laptops, portable refrigerators, heated blankets, projectors , TV, CPAP machine, and more for your home appliances, outdoor self-driving, photography and other needs. And you can charge and use at the same time.

【3 Ways To Recharge 】
1)The rechargeable generator with a built in MPPT controller can be recharged from the sun with any compatible solar panel (Not Included).
2) This power station can be fully charged in 6-7 hours by being plugged into the wall outlet.
3) The power station can be charged by plugging into your car 12V(Car charger included). The power station supports AC, USB, or DC output while being charged.
【Power 9 Devices At The Same Time】
This portable power station comes with a variety of ports compatible with your devices, It features 1*standard AC outlet, 2*DC5525 outlet, 1*Cigarette lighter port, 1*Wireless Charger, 1* USB-C ports, and 3*USB Type-A ports for charging electronics. you can charge and power up to 9 devices at once.
【For outdoor & Home Needs】
Pure Sine Wave inverter provides grid like power, Store power before the hurricane season or power outages, keeping your devices connected and safe from the lightning storm. And it weighs just 9.24lbs, easy to carry, is sure to fulfill your needs in camping, travel, music festivals, emergencies, and more.
Advance350 Technical specification:
| | |
| --- | --- |
| Battery Capacity | 346Wh(93514mAh) |
| AC Output | 1*AC Output 120V, 60Hz 330W , 660W surge, Pure Sine Wave |
| USB-A | 3*USB-A QC 3.0 18W each |
| DC Input | 80W |
| DC5525 Outputs | 2*DC5525 Outputs 12V/10A |
| Cigarette lighter port | 1*Cigarette lighter port 12V/10A |
| USB-C | 1*USB-C PD3.0 60W |
| Wireless Charger | 10W |
| Flashlight with SOS mode | 1* flashlight with SOS mode |
| LED light | 1* LED light |
| LCD Display | 1*LCD Display |
| Dimensions | 10.9 x 9.6 x 9.1 inches |
| Weight | 9.24 pounds |
FAQ:
Q1: How long can the Togo power Advance350 power up my device?
A: As a general rule of thumb:Working times = 346Wh X 0.85 / operating wattage of your device
For example, if your device is 10W, the working time will be about 346Wh X 0.85 / 10W=29.4hrs.
Please note: the actual working time may vary from different usages and conditions.
Q2: What devices can Advance350 power?
A: Please note that the AC output port can only charge/power devices that operate at less than total 346 Watt.
Q3: Does Advance350 include a built-in MPPT controller?
A: Yes, Advance350 power stations have a built-in MPPT controller.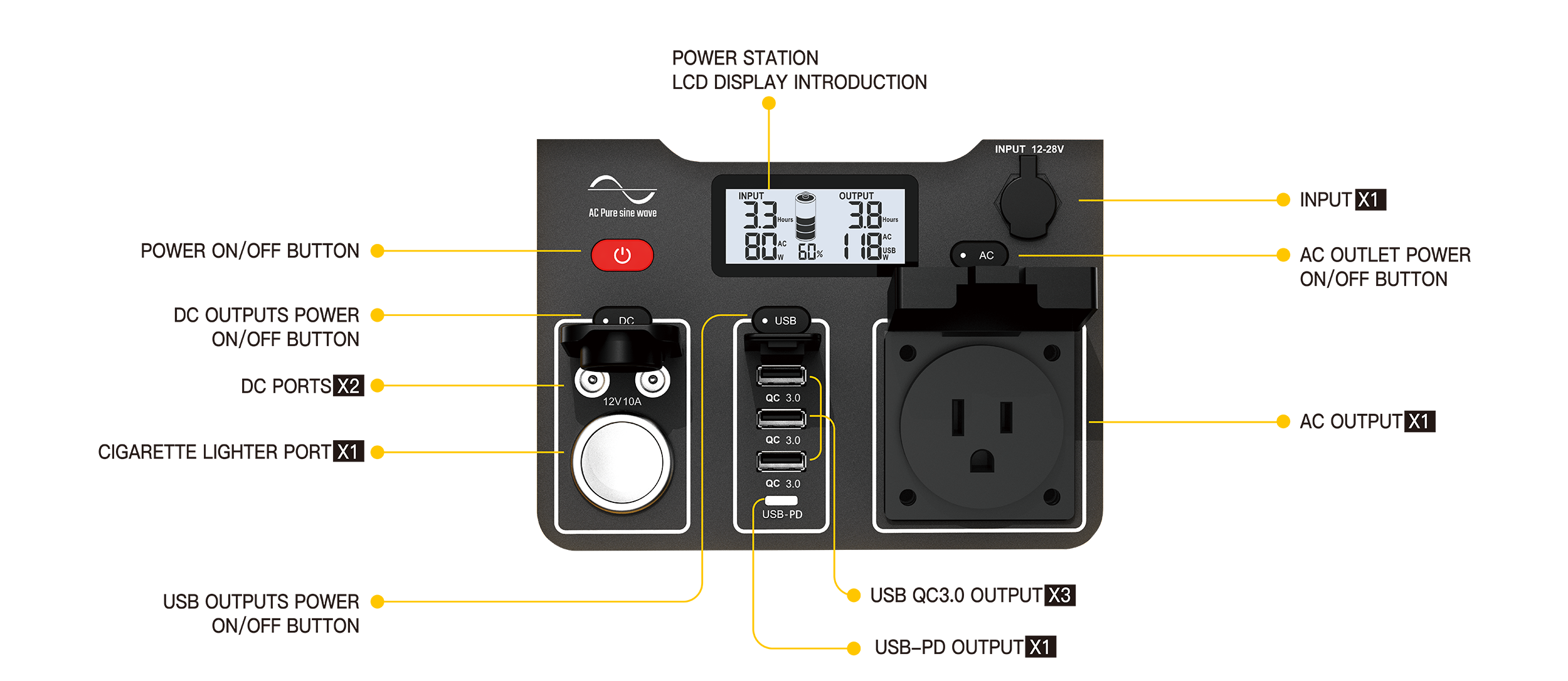 Great Bang For The Buck
This is a great little solar generator for the price. I got it primarily for keeping phones, lights, and other electronics charged while I'm camping, and it works great for that. Good number of ports plus the wireless pad on top meant we could top off both phones each night and still have a couple ports to charge up lights, and the PD port for the laptop.
The biggest negatives this unit has, and they are minor overall, is that it's slow to charge, taking only a max of 65 watts in no matter what you throw at it, and that the cycles to 80% battery life is pretty low by today's model standards. Still, given this price, that's not totally surprising. As long as you can find a solar panel that has enough volts for the MPPT controller in the unit, you can get a full charge from 0 in about 6 hours. The MPPT does require higher voltage, meaning some of the bargain solar panels that only manage 16-17 volts under load will only give it about 12 watts input instead of the 65 it can take.
Portable and powerful
I am so impressed with this power station. It is completely portable and goes up to 330 W which is great for camping. I could also connect my solar panel to it. This is helpful if there is a power outage at home or if I need to run some equipment or something small out in the yard. We usually end up just using this to charger cell phones when we're camping for the whole week. I do like the lights as they are very bright and helpful when setting up camp if we got there too late.
Small powerful box
Very pleased with this power station. Recently my lights went out and I was able to power up my devices to keep working from home. The station is portable and easy easy to use. Definitely recommend with the money!
cost efficient with great value power station !!! great for comping !!
I love this power station. I have till now used in my 3 camping's , and it works great . i don't know much of technicalities but i was able to run 2 lights , ipad charge and phone charge for multiple times and single charge for 3 days.the good thing is it comes up with 2 way lights which can be used as a torch and once i kept it all on for whole night it drained the only 10% batteryPros: small, portable, handle folds flat and flush with a flat top, unlike the bulky and awkward strange shapes that other power stations seem to love. The sides are all a sensible rectangle which makes it easy to store with no gaps.Cons: still dont know